EKV CPU control auto booster silent pump
1. Built-in CPU controller to control pump system
2. Auto dry-running shutdown function- When water outage occurs, the pump will auto shutdown in 60 seconds, to avoid motor burnout due to dry running.
3. Silent operation,and stable water pressure provided.
4. High performance, compact design for saving space.
5. Auto boost water pressure and water supply when users open faucets,showers,..etc.
6. EKV is designed for bi-voltage, 110/220V, the installer can choose the suitable voltage manually.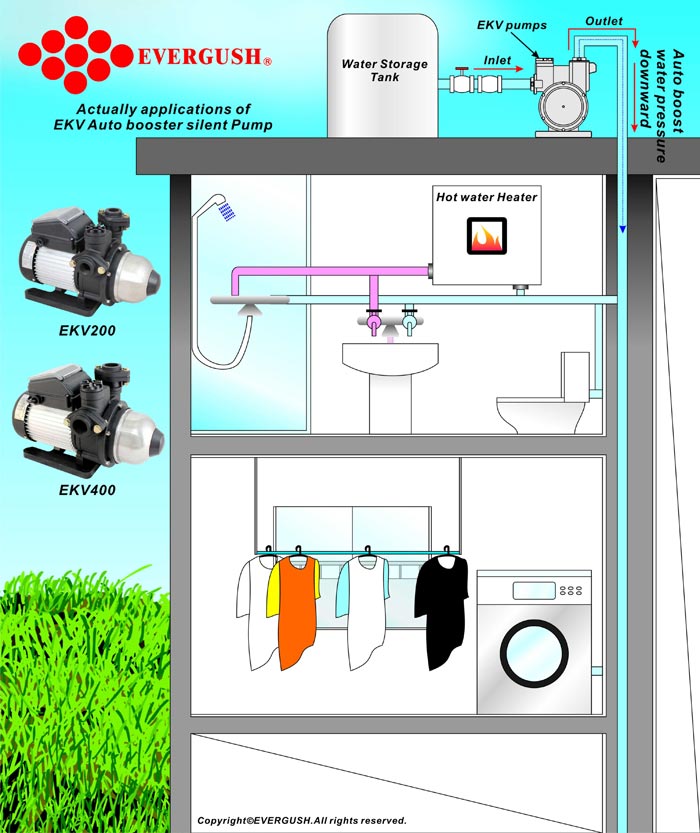 1. Water supply and pressure boosting in residential and commercial applications.
2. Auto water pressure boosting for barber shop,restaurant,sprinkler system of garden,washing machine,residence,villa...,etc.

1. Ambient Temp.: +2C~+40C。
2. Relative Humidity: Max.85%(RH)。
3. Liquid Temp. : +2C~+40C。
4. Working pressure: Max. 5 kg/cm2。
5. Before running, Ensure inlet pressure is lower than setting activation running pressure.
6. For clean water without abrasives. No transfer underground water or Sea water.
1.Output: 1/4HP;1/2HP
2.Motor Protection: IP54
3.Motor Insulation: B
4.Voltage:
Single phase bi-voltage 110/220V (60HZ)
Single phase 220~240V (50HZ)
5.Inlet/Outlet: 3/4" or 1"
6.Max.Head: 27M
7.Max.Capacity: 70LPM